If you are like most, the word "curbside" brings visions of food being delivered to your car window, maybe even on roller skates. Prior to 2019, most people would likely not have thought about the term "curbside" when discussing health care services. And as providers, most of us didn't think that we would provide patient care at the curb outside the office front door. Today, it is not uncommon to drive through medical building parking lots and see that there are assigned Curbside Care designated parking spots. Some practices have handmade signs that are stuck in the ground (that is how we started), and others have embraced the new way to deliver care, for now and the future, assigning permanent parking spots for curbside care.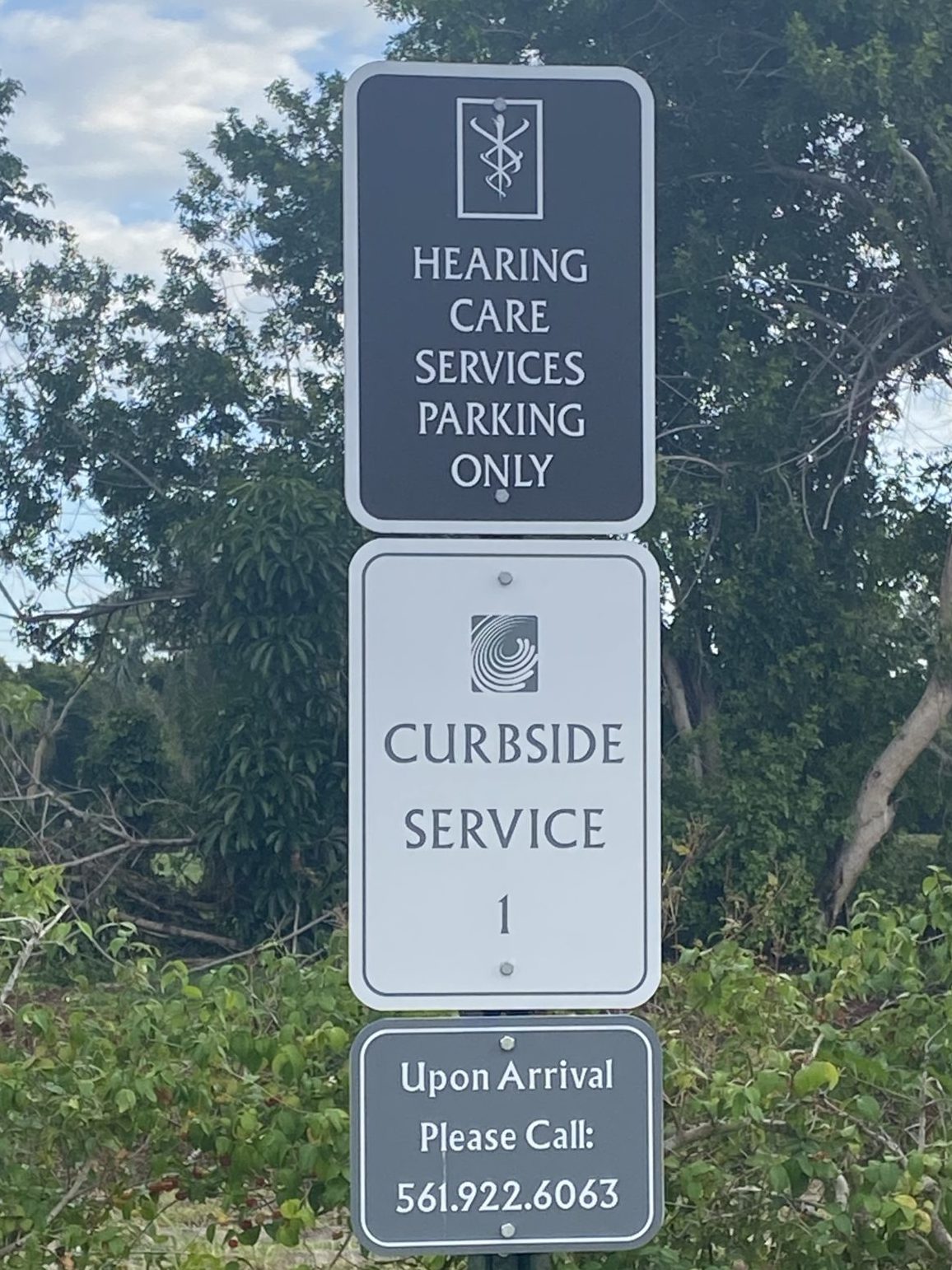 As we think back to the first days of the pandemic lock down, it brings back vivid memories of uncertainty; fear for ourselves and our patients and wondering how we could continue to serve our patients who were already predisposed for isolation by the pure nature of hearing loss. Never in our lifetime had we been asked, or in some cases told, to shelter-in-place due to a medical threat. The healthcare world was managing difficult questions of how we keep people safe while still being able to serve their medical needs. The discussions were swirling in the media, in phone conversations with colleagues and within practices on what is considered "essential healthcare services" when a community is faced with a global pandemic? Some classified "essential" as anything required to save a patient's life; others considered anything that negatively impacts a patient's quality of life as "essential care". As a medical provider that witnesses the impact on the overall health and wellness that even an untreated mild hearing loss can bring, knows that for most, untreated hearing loss has substantial consequences when the world is managing normal circumstances. Now to be isolated at home, without support systems like family and friends, created an environment where a patient's only contact with the world is through a video or phone call, television, radio, and social media. We argued that hearing care services were even more essential in everyday life, now more than ever, hearing was a person's primary lifeline.
At that point, we started asking ourselves, how can our physicians and providers meet patients where they are: in the community, at their homes, and on their connected devices. Although some of these changes will reverse as the world feels safer and more comfortable, we believe that there has been a fundamental shift in the delivery care. We already had digitally enabled care in some ways, through apps and our patient portal, we needed to expand our care delivery and inform our patients. We ultimately learned to connect to our patients in new ways, through: telemedicine appointments, remote-programming schedules, drop-off services and curbside care; and we are not looking back.
To make patients feel as safe as possible and meet the social distancing guidelines, medical professions were able to start providing telehealth visits to meet their healthcare needs in a time that being in an exam room with a patient was not "safe". In audiology, we can provide a vast number of services via telehealth, however, we must have our patients positioned to move to this type of care. What do I mean by this? Remote programming has been available in hearing instruments for quite some time, but not widely adopted due to licensing concerns as it relates to telemedicine and audiology. But once again, COVID 19 created a window where prior telehealth regulations by insurers were loosened so patients could be provided healthcare as it was needed, and providers could receive payment.
In hearing care, we had the answer – remote programming. Thankfully, the hearing instrument manufacturers had been incorporating remote programming capabilities for quite some time. That said, many of us did not wholly appreciate the effort until COVID hit unexpectedly. And even then, many of us were not fully prepared to deliver it to the bulk of our patients. Our practice had written hearing aid delivery guidelines that include activating any remote programming capabilities in the hearing instrument. So, in theory, as part of our clinical protocol, all instruments are to be set up for remote care services. Guess what happened when the pandemic started? We quickly discovered that for whatever reason, many providers had not initiated the remote capability. As I investigated the reasons why it had not been done, the first reason was time, they didn't have enough of it during the delivery of the technology to add another feature and counsel on it. However, the biggest reason was they didn't think the patient would use it. And for the most part, at that time, they weren't wrong. Most of our patients set in-person appointments for their follow-up and on-going hearing care. When we look back now, we just weren't planning for a pandemic-like environment. We had been delivering care one way, for a very long time; and only for extreme cases, like illness or distance, did we ever really use any type of phone consult, telemedicine visit or remote programming capability as a practice. Wow. We were wrong about adaptation when there are extenuating circumstances and other available care channels to receive help.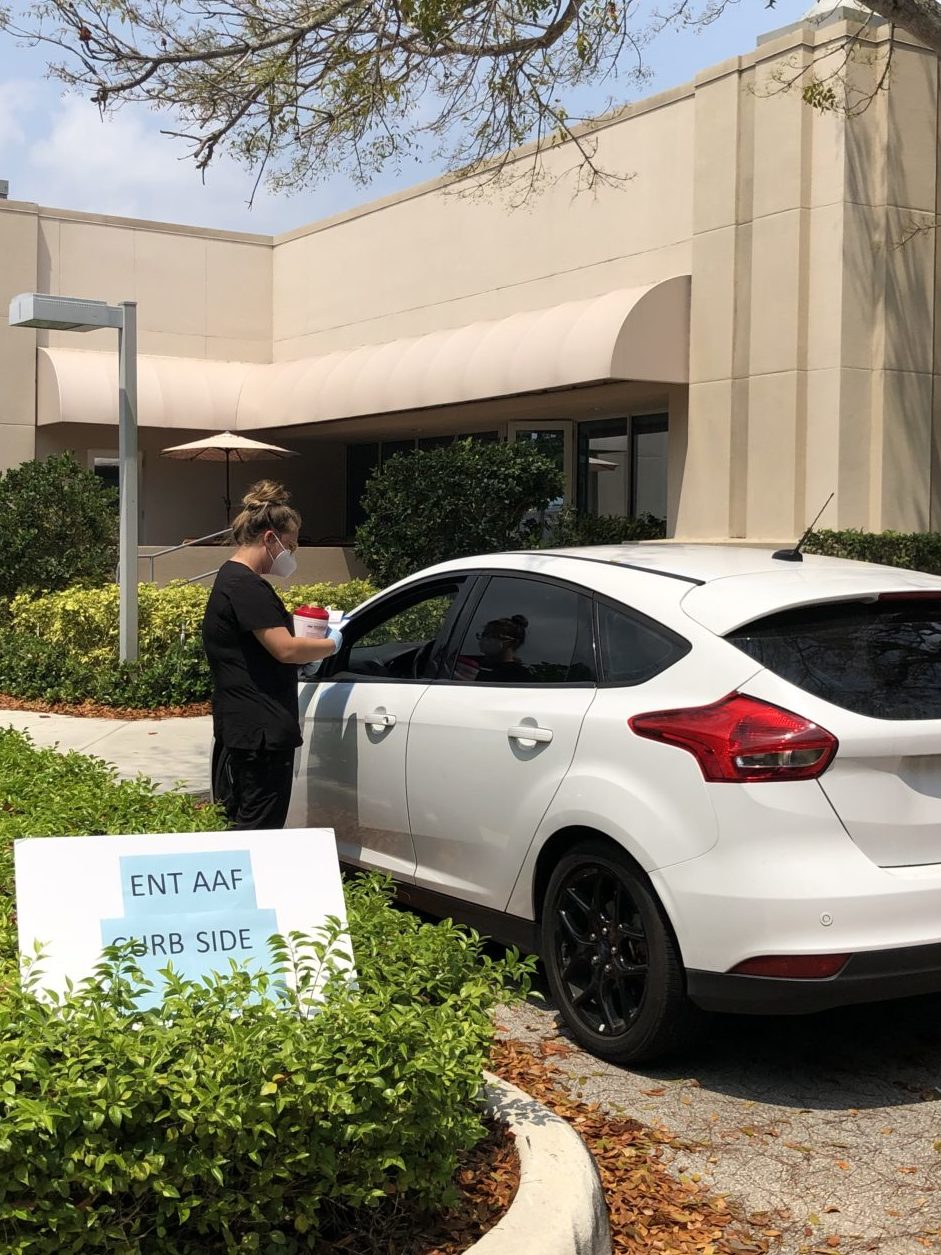 This is where the Curbside Care Channel journey began for ENT and Allergy Associates of Florida. To service our patient's hearing instrument needs, we first had to have all hearing aids prepared for remote programming, which for most patients meant we needed their instruments in the clinic. However, at this time during the pandemic, we couldn't have the patients physically in the hearing aid clinic, and thus, Curbside Care was born. While servicing the patient this way, we could wear proper personal protective equipment, do the proper patient attestation, take temperatures, and mostly stay at the required social distance. Best of all, we could take the patients hearing instruments from them and prepare them for remote programming while they sat in the safety of their own car.
The next hurdle was figuring out how to inform our patients about the new way to visit the office. We wanted them to know that we were here for them. The fastest way to engage with them was on our social media of course. We went "Live on Facebook" on ENTAAF's Hearing Clinic social channel and talked about the new way to visit the office, how the Curbside Care would allow us to assist them safely, what remote programming meant and communicated that they did not have to be our patient to get help.
As providers, we focused on how we could manage the situation within the government guidelines and still find solutions that would meet the needs of our patients while protecting the staff. Even though what we came up with may even seem outside-of-the-box, we simply focused on how to meet the needs of the patient by managing them "where they were"; and in this case, they were in their car. After all, some practices still utilize the care channel of 'at-home' care, and take care of patients where they live, we surely could be creative enough to manage care if they would drive to us.
Considerations when adding or maintaining this modern delivery channel:
Put a clinical guideline in place that requires that if remote programming features are available, they are activated at time of fitting. Next, add this feature to your chart review process to monitor provider compliance.
Assess the parking spaces around the practice to determine best parking spots to assign as Curbside Services.
Assure you have adequate signage designated for the curbside area and that you have communicated to the patient how to notify the office when they arrive.
Familiarize and train support staff on services that can be provided curbside and how to triage patients between face-to-face care, drop-off service, remote programming appointment and curbside care.
Become familiar with all manufacturers remote capabilities allowing your team to manage patients that may have purchased from other locations. Understanding what is available also allows the practice to determine if there are other products that may meet the needs of current patients.
Develop manufacturer specific checklists listing the required steps the provider must execute to enable remote programming capabilities in products.
Regroup with your providers and staff to discuss benchmarks around different care channels, talk about how they are doing, and what they are seeing with patient outcomes. Remember, there is always a way to improve the experience for both your patients and the team that is providing the care.
Hopefully, we are turning the corner on this pandemic. With that, many patients are still not comfortable being in the office, and for many, having to come into the office is a burden. We believe that Curbside Care and Remote Programming Appointments are here to stay in the world of hearing care. Moving forward, we will continue to deliver hearing care in these newer channels.